Helium 10 Platinum Plan is a powerful subscription package that caters to Amazon sellers who are looking for a comprehensive solution to optimize their product listings, improve keyword ranking, and efficiently manage their Amazon FBA business.
For $197/month, subscribers get access to a variety of essential tools, resources, and features that can help streamline their business operations and stay ahead of the competition.
What included in the Platinum Plan
Full Access to Helium 10 Tools
Platinum Plan subscribers enjoy unlimited access to the suite of Helium 10 tools, including:
Black Box: A powerful product research tool that helps you discover profitable product ideas.
Xray: An in-depth market research tool that provides valuable insights into product competition, sales, and revenue.
Cerebro: A reverse ASIN lookup tool that helps you uncover your competitors' keyword strategies.
Magnet: A keyword research tool that helps you identify high-volume, relevant keywords for your products.
Frankenstein: A keyword processor that refines and optimizes your keyword lists.
Scribbles: A listing optimization tool that helps you create compelling, keyword-rich product listings.
Index Checker: A tool to ensure your products are indexed correctly for your target keywords.
Keyword Tracker: A tool that monitors your keyword rankings and provides insights on how to improve them.
Alerts: A tool that monitors your listings and alerts you to any unauthorized changes or potential hijackers.
Inventory Protector: A feature that helps you set limits on coupon usage to prevent inventory depletion.
Refund Genie: A tool that identifies and helps you claim reimbursements for lost or damaged inventory.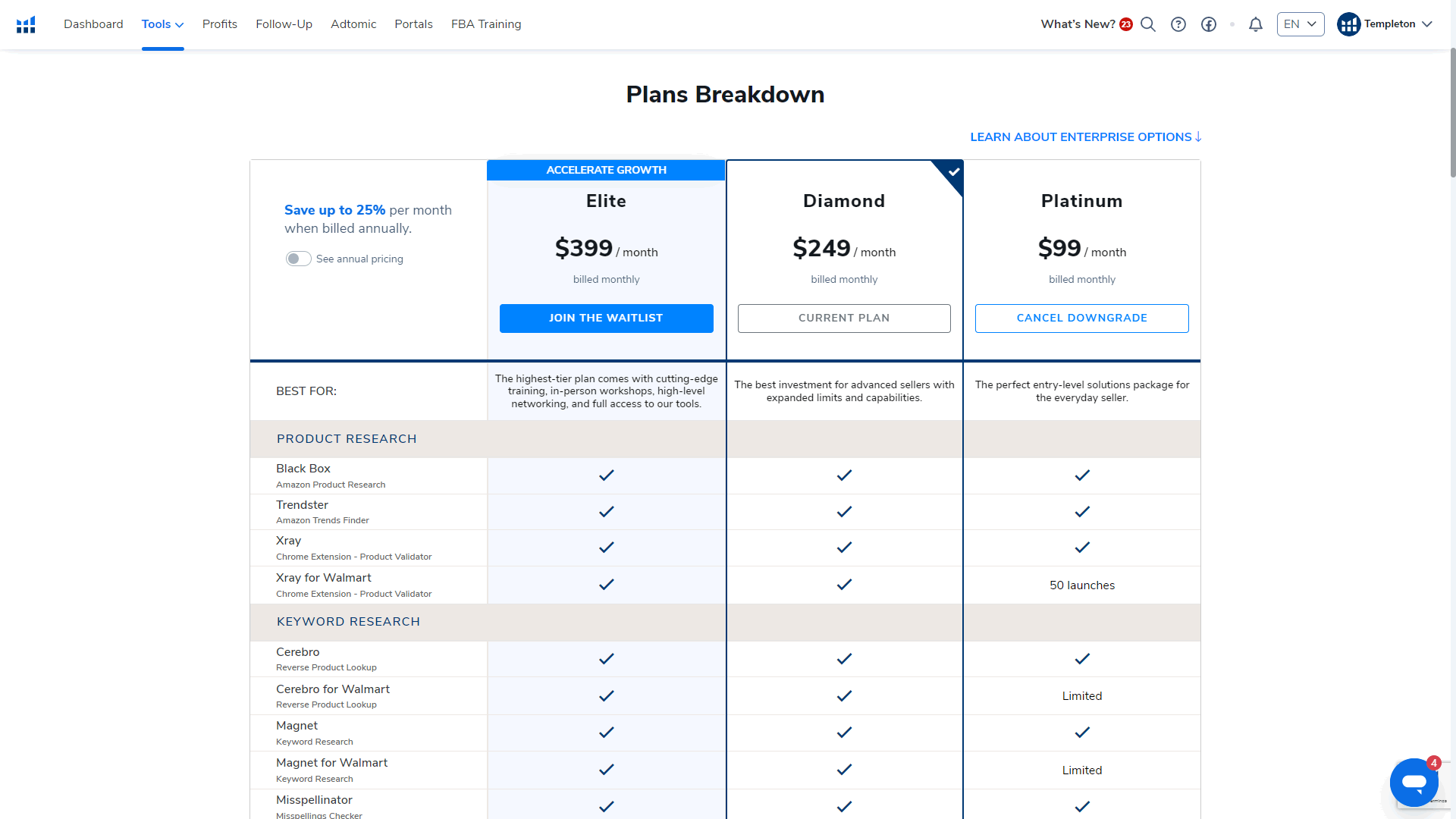 Elite Training
Platinum Plan subscribers get access to exclusive training resources, including the Helium 10 Elite Webinar Series. This series covers advanced selling strategies, tips, and techniques from industry experts, ensuring you stay up-to-date with the latest trends and best practices.
Multiple User Access
The Platinum Plan allows you to add up to three users to your account, making it easy to collaborate with your team or partners.
Access to the Private Facebook Group
Subscribers can join the Helium 10 Platinum Users private Facebook group, which provides a platform for networking, exchanging ideas, and getting support from fellow Amazon sellers and experts.