Helium 10 Profits is a powerful Amazon seller tool designed to help users analyze their sales data and maximize profits. This tool includes a range of features to help Amazon sellers streamline their business operations and increase their revenue. Let's take a closer look at what Helium 10 Profits offers.
Features
General Dashboard
Helium 10 Profits offers a general dashboard where users can see an overview of their sales performance. This dashboard provides valuable insights into a seller's business operations, including product performance, inventory levels, costs, refunds, and sales analytics.
Product Performance Dashboard
The Product Performance Dashboard in Helium 10 Profits provides detailed insights into the performance of each SKU. This dashboard includes information such as expenses, fulfillment type, gross revenue, margin, net profit, page views, products, refunds, ROI, sessions, unit session %, and units sold. By using this tool, Amazon sellers can easily identify which products are performing well and which ones need improvement.
Inventory Levels
Helium 10 Profits also offers a dashboard that shows the inventory levels of active products and SKU fulfillment information. This dashboard includes ASIN, SKU or Title, stock availability on FBA, average daily sales, COGS + COGS status, estimated Amazon fees, fulfillment type (FBA / FBM / SFP), inbound inventory on FBA, price, reserved inventory on FBA, sellable inventory on FBA, and unfulfillable inventory on FBA. This information can help sellers optimize their inventory levels and avoid stockouts or overstocking.
Sales Analytics
With Helium 10 Profits, Amazon sellers can access comprehensive sales analytics, including real-time sales data, trends, and metrics. The tool allows users to track their sales performance, identify areas for improvement, and make data-driven decisions to boost their profits.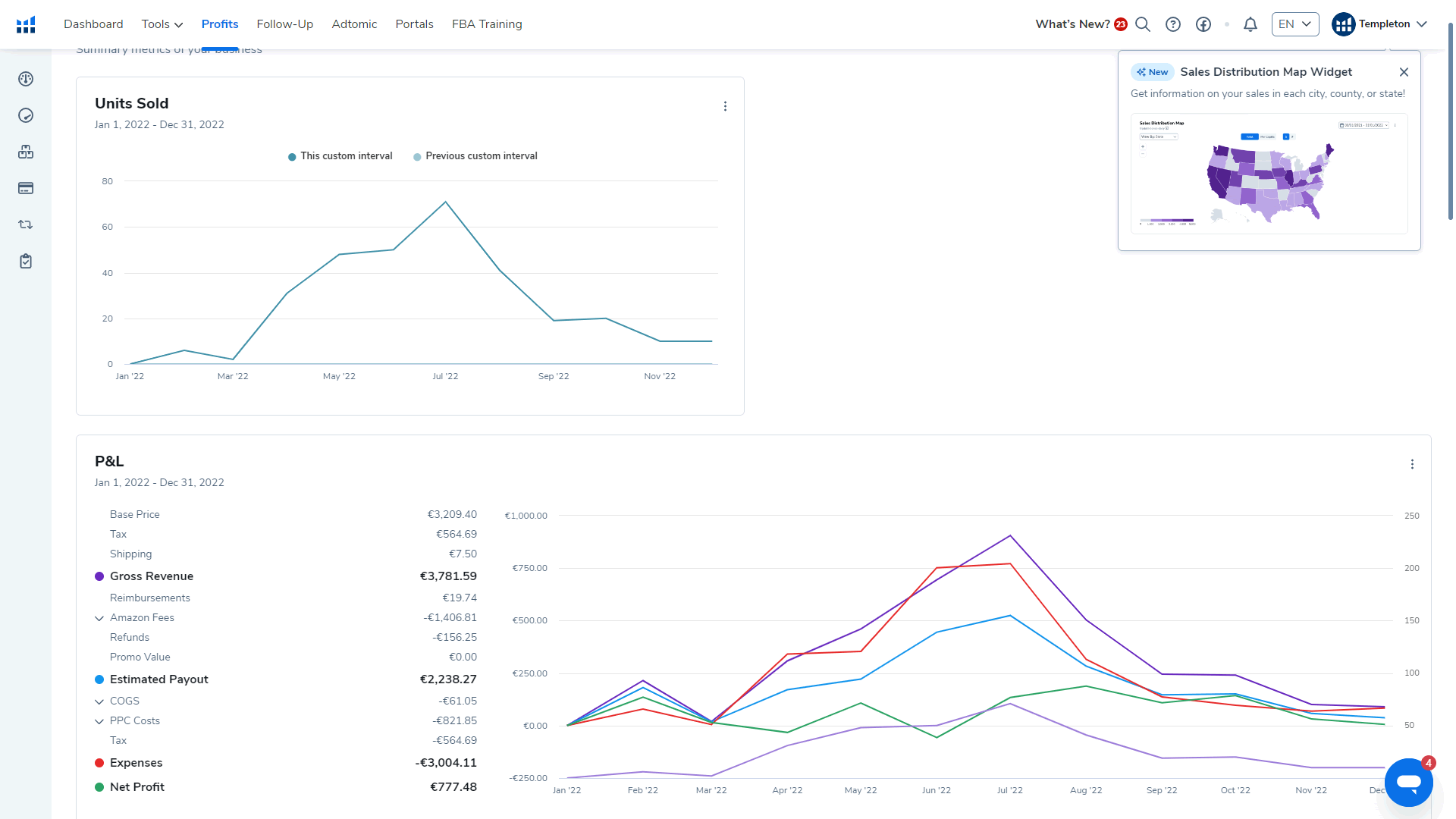 Refunds
Helium 10 Profits provides a complete report on refunded and returned orders. This feature allows sellers to keep track of their refunds and identify any issues with their products or business operations.
Expenses
The Expenses feature in Helium 10 Profits includes both recurring and one-time expenses. FBA fees are automatically included since it's synced with the seller's Amazon Seller Central data.
Inventory Management
Helium 10 Profits offers inventory management features that help sellers optimize their inventory levels. With this tool, users can set reorder points, track inventory levels, and forecast demand to ensure they always have the right amount of inventory on hand.
Benefits
By using Helium 10 Profits, Amazon sellers can benefit in several ways, including:
Increased profits by identifying the most profitable products and adjusting pricing accordingly
Streamlined business operations by optimizing inventory levels and reducing costs
Improved sales performance by tracking metrics and making data-driven decisions
Enhanced customer experience by managing refunds and returns efficiently
Greater visibility into business operations with comprehensive analytics and dashboards