Helium 10 Follow-Up is an email automation tool designed specifically for Amazon sellers. It allows you to create, customize, and schedule automated email sequences that are triggered by specific events in your customer's purchasing journey. By taking advantage of this tool, you can enhance customer satisfaction, encourage positive reviews, and increase the overall success of your Amazon business.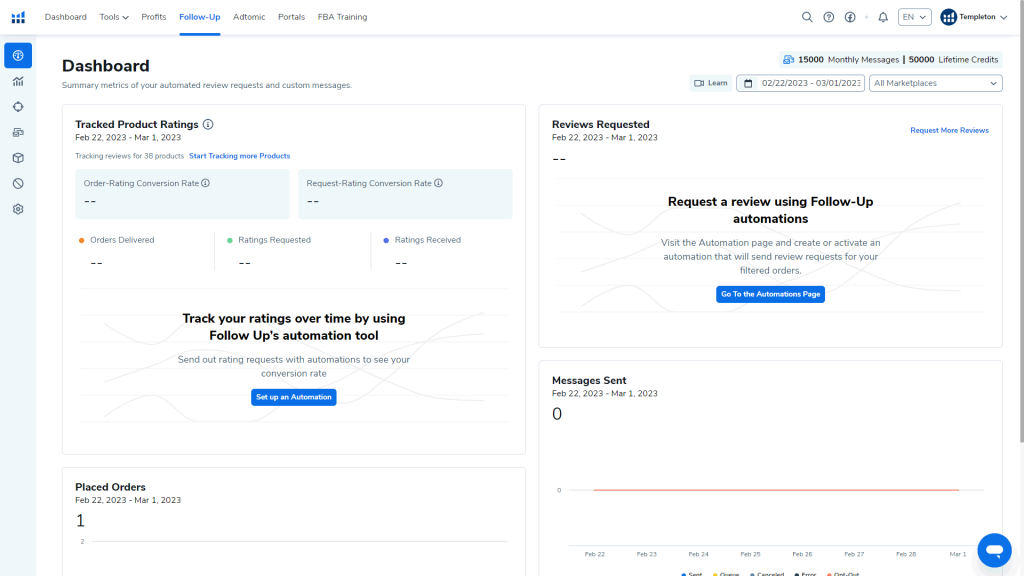 Features of Helium 10 Follow-Up
Customizable Email Templates
Helium 10 Follow-Up offers a variety of pre-built, customizable email templates that cater to different types of customer interactions. These templates can save you time and provide a solid foundation to build upon. You can easily edit and modify them to match your brand voice and style.
Event-Triggered Email Sequences
This feature allows you to create automated email sequences that are triggered by specific events in your customer's journey. For example, you can set up emails to be sent when a customer places an order, when their order is shipped, or when their order is delivered. This way, you can stay in touch with your customers at crucial moments and enhance their overall experience.
Custom Email Scheduling
Helium 10 Follow-Up gives you complete control over when your emails are sent. You can choose the specific day or time that works best for your customers or align with your marketing strategy. This helps ensure that your emails reach your customers at the most opportune moments.
Analytics and Reporting
Helium 10 Follow-Up offers a comprehensive analytics dashboard that provides insights into your email campaign performance. You can monitor open rates, click-through rates, and conversion rates to optimize your email strategies effectively. This data-driven approach can help you refine your email marketing campaigns and improve your customer engagement.
Blacklist Management
To avoid sending emails to customers who have opted out or requested not to be contacted, Helium 10 Follow-Up offers a blacklist management feature. This allows you to keep track of customers who do not wish to receive your emails and ensure compliance with Amazon's communication guidelines.
Integration with Other Helium 10 Tools
Helium 10 Follow-Up integrates seamlessly with other Helium 10 tools, such as the CRM and inventory management systems. This allows you to streamline your operations and access all relevant information in one place.
Benefits
Improved Customer Experience
Effective communication is essential for creating a positive customer experience. Helium 10 Follow-Up allows you to send timely and relevant emails to your customers, ensuring they feel valued and informed throughout their purchasing journey. By keeping your customers engaged and satisfied, you increase the chances of earning repeat business and referrals.
Enhanced Brand Reputation
With Helium 10 Follow-Up, you can create professional and consistent email communications that represent your brand well. By sending well-designed, personalized emails, you can build trust and credibility with your customers, enhancing your brand reputation.
Increased Positive Reviews
One of the most significant challenges Amazon sellers face is generating positive reviews. Helium 10 Follow-Up can help by sending automated follow-up emails asking customers to share their feedback or write a review. This not only increases the likelihood of receiving reviews but also allows you to address any issues or concerns promptly, minimizing negative reviews and fostering customer satisfaction.
Reduced Manual Workload
Managing customer communications can be time-consuming, especially for busy Amazon sellers. By automating the process with Helium 10 Follow-Up, you can save time and resources while ensuring that your customers receive timely and relevant information.
Better Customer Segmentation
Helium 10 Follow-Up enables you to segment your customers based on their preferences, purchase history, and other relevant factors. This allows you to tailor your email campaigns to specific customer groups, resulting in more effective and targeted marketing efforts.
Compliance with Amazon Communication Guidelines
Amazon has strict guidelines regarding seller-to-customer communications, and non-compliance can result in account suspension. Helium 10 Follow-Up helps you adhere to these guidelines by providing features like blacklist management and pre-built templates designed for Amazon sellers.