As you may know, Helium 10 is a powerful software suite designed to help Amazon sellers grow their businesses. With its free trial, you can access a wide range of tools and features that will help you optimize your listings, boost sales, and analyze the competition.
What's Included in the Helium 10 Free Trial
The Helium 10 Free Trial provides access to a variety of tools and features, such as:
Black Box: This is a product research tool that allows you to find profitable products to sell on Amazon by using filters such as category, price, sales, and reviews.
Trendster: Analyze product trends and seasonality to make informed decisions on what products to sell and when to launch them.
Magnet: This keyword research tool helps you find high-traffic keywords that can improve your product visibility and sales.
Cerebro: A reverse ASIN lookup tool that helps you uncover your competitors' keyword strategies, so you can optimize your listings to outrank them.
Frankenstein: A keyword processor that allows you to combine, filter, and organize large lists of keywords for better listing optimization.
Scribbles: A listing optimization tool that ensures your product listings include all the necessary keywords for maximum visibility and conversion.
Keyword Tracker: Track your product rankings for specific keywords and monitor changes in rank over time.
Hijacker Alert: Get notified when unauthorized sellers try to take over your listing or sell counterfeit products under your brand.
Inventory Protector: Set limits on the number of units customers can purchase during promotions to prevent stock depletion by malicious buyers.
Refund Genie: This tool helps you identify and recover lost inventory or damaged items eligible for reimbursement from Amazon.
Please note that while the free trial provides access to these features, usage may be limited in comparison to a paid subscription.
How it will help you
The Helium 10 Free Trial offers numerous benefits for Amazon sellers, including:
Product Research and Validation: With tools like Black Box and Trendster, you can quickly identify profitable products and niches to enter, reducing the risk of investing in unprofitable items.
Keyword Research and Optimization: Magnet and Cerebro help you find the best keywords for your listings, increasing your products' visibility in search results and leading to higher sales.
Competitor Analysis: Uncover your competitors' strategies using Cerebro's reverse ASIN lookup, giving you insights into their keywords, pricing, and more, so you can make data-driven decisions to outperform them.
Listing Optimization: With Scribbles, you can create well-optimized product listings that include all relevant keywords, increasing your products' chances of ranking higher in search results and attracting more buyers.
Inventory and Promotion Management: Tools like Inventory Protector and Hijacker Alert protect your products from malicious sellers and prevent stock depletion during promotions, ensuring your business runs smoothly.
Refund Recovery: Refund Genie identifies and helps you recover reimbursements owed by Amazon for lost or damaged inventory, ensuring you don't lose money on unclaimed refunds.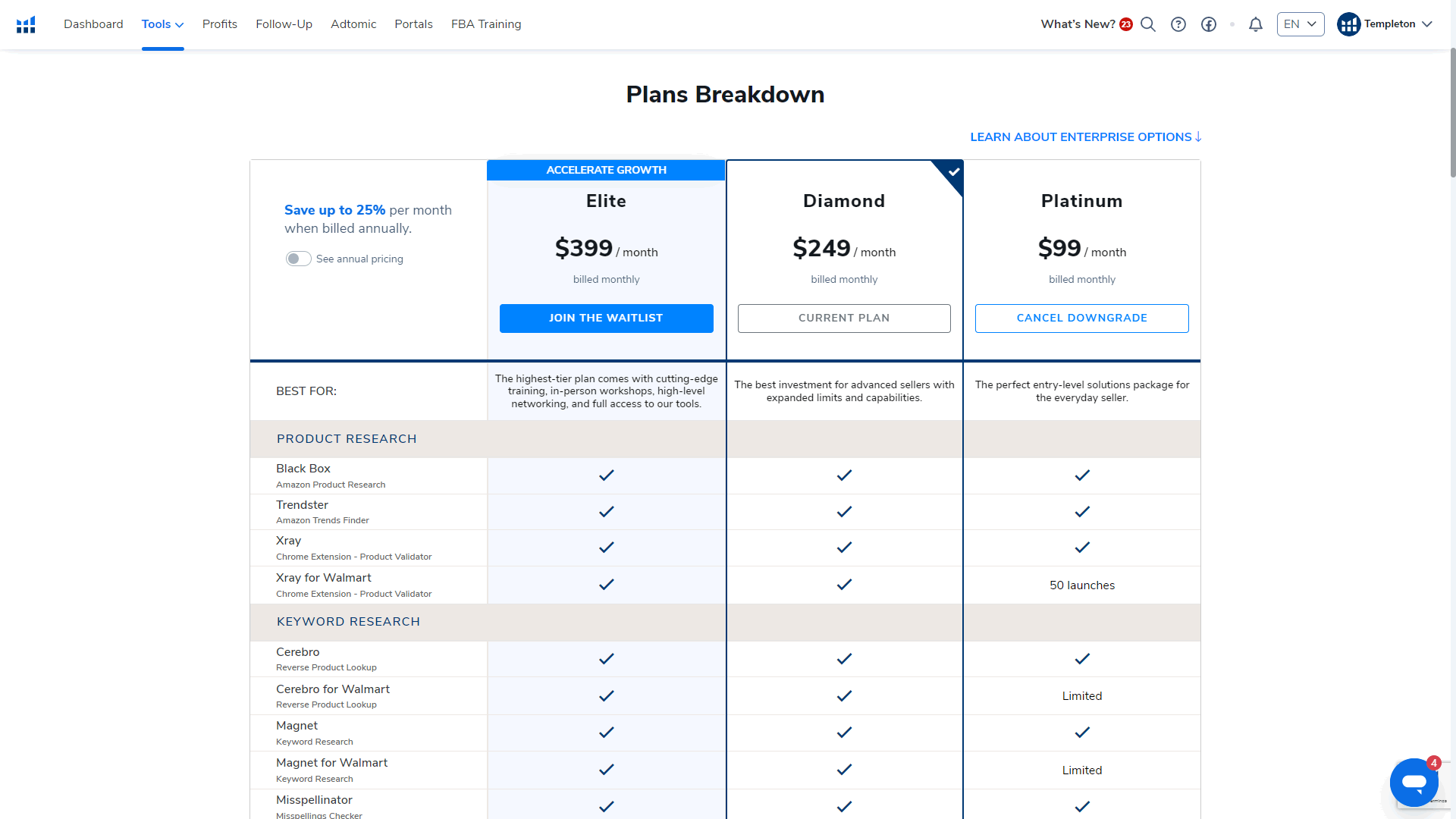 How to Get Started with the Free Trial
To start your Helium 10 Free Trial, follow these simple steps:
Go to the Helium 10 website and click on the "Sign Up" button in the top right corner.
Enter your name, email address, and create a password. Then, click "Sign Up" to create your account.
After signing up, you will be directed to the dashboard. From here, you can access all the tools and features included in the Helium 10 Free Trial.
To use a specific tool, click on its name in the left sidebar. Each tool comes with a tutorial or guide to help you get started.
Keep in mind that the free trial may have limitations compared to a paid subscription. To upgrade your account and unlock additional features, click on the "Upgrade" button in the top right corner and choose a plan that best suits your needs.