Helium 10 Frankenstein is a powerful keyword processor within the Helium 10 suite of tools, designed specifically for Amazon sellers. It allows users to clean, organize, and optimize their keyword lists, resulting in a more focused and effective keyword strategy for their Amazon product listings.
When it comes to driving traffic and sales on Amazon, one of the most critical factors is optimizing your product listings with the right keywords. Keyword optimization not only helps improve the visibility of your products but also increases the chances of ranking higher on Amazon's search results.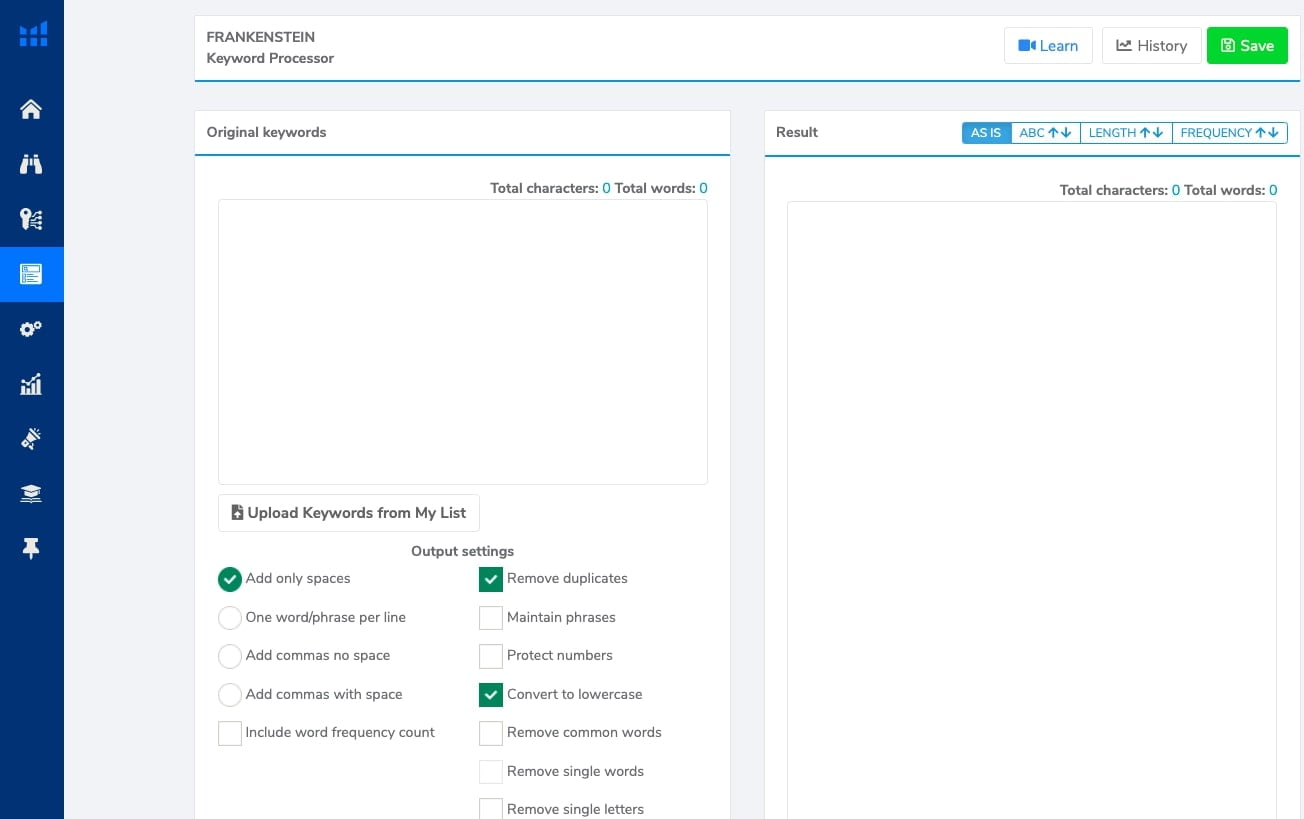 Key Features
Clean and Organize Keywords
Remove duplicates, irrelevant words, and special characters to create a clean and organized keyword list.
Process Large Volumes of Keywords
Handle thousands of keywords at once, making it perfect for bulk keyword processing.
Keyword De-duplication
Remove duplicate keywords, ensuring that your listing is optimized for unique and relevant search terms.
Advanced Filtering Options
Filter your keyword list by search volume, word count, or specific phrases to refine your keyword strategy further.
Keyword Combining
Merge multiple keyword lists into one master list for a more comprehensive keyword strategy.
Export and Share
Easily export your cleaned and organized keyword list to use in other tools or share with your team.
Benefits
Save Time and Effort
Helium 10 Frankenstein streamlines the keyword research and organization process, allowing you to focus on other aspects of your Amazon business.
Improve Product Visibility
By using a well-organized and optimized keyword list, your product listings will be more visible to potential customers on Amazon.
Rank Higher in Amazon Search Results
Targeting the most relevant keywords will increase your chances of ranking higher on Amazon's search results, driving more traffic and sales to your products.
Competitive Edge
Utilizing the powerful features of Helium 10 Frankenstein gives you a competitive edge over other sellers who may not be optimizing their listings effectively.
Integrate with Other Helium 10 Tools
Frankenstein works seamlessly with other Helium 10 tools like Scribbles and Cerebro, streamlining your entire Amazon listing optimization process.