Helium 10 Cerebro is a keyword research instrument tailored for Amazon sellers. Cerebro enables users to perform comprehensive keyword research to pinpoint high-volume, low-competition keywords that can enhance their ranking in Amazon search results and boost sales. The Reverse ASIN technique is employed, necessitating the input of 1 to 10 ASINs to extract organic and sponsored keyword information.
Functionalities
Cerebro Reverse ASIN Lookup
Enables Amazon sellers to reveal top-performing keywords for any product on the platform. By inputting a product ASIN, Cerebro Reverse ASIN Lookup generates a list of pertinent keywords driving the most traffic and sales for that item.
Keyword Search Volume
Cerebro lets you assess the search volume of specific Amazon keywords. This helps you identify high-volume, low-competition keywords to target for better search rankings.
Competitor Analysis
Cerebro lets you examine your competitors' keyword rankings and spot opportunities to enhance your own. You can also compare the search volume of specific keywords to your own.
Keyword Difficulty Score
Cerebro offers a keyword difficulty score, assisting you in identifying the competition level for specific keywords. This can help you prioritize keywords to target and adjust your product listings accordingly.
Search Terms Optimization
Cerebro enables you to optimize your search terms, improving your product listings and increasing your Amazon search results visibility.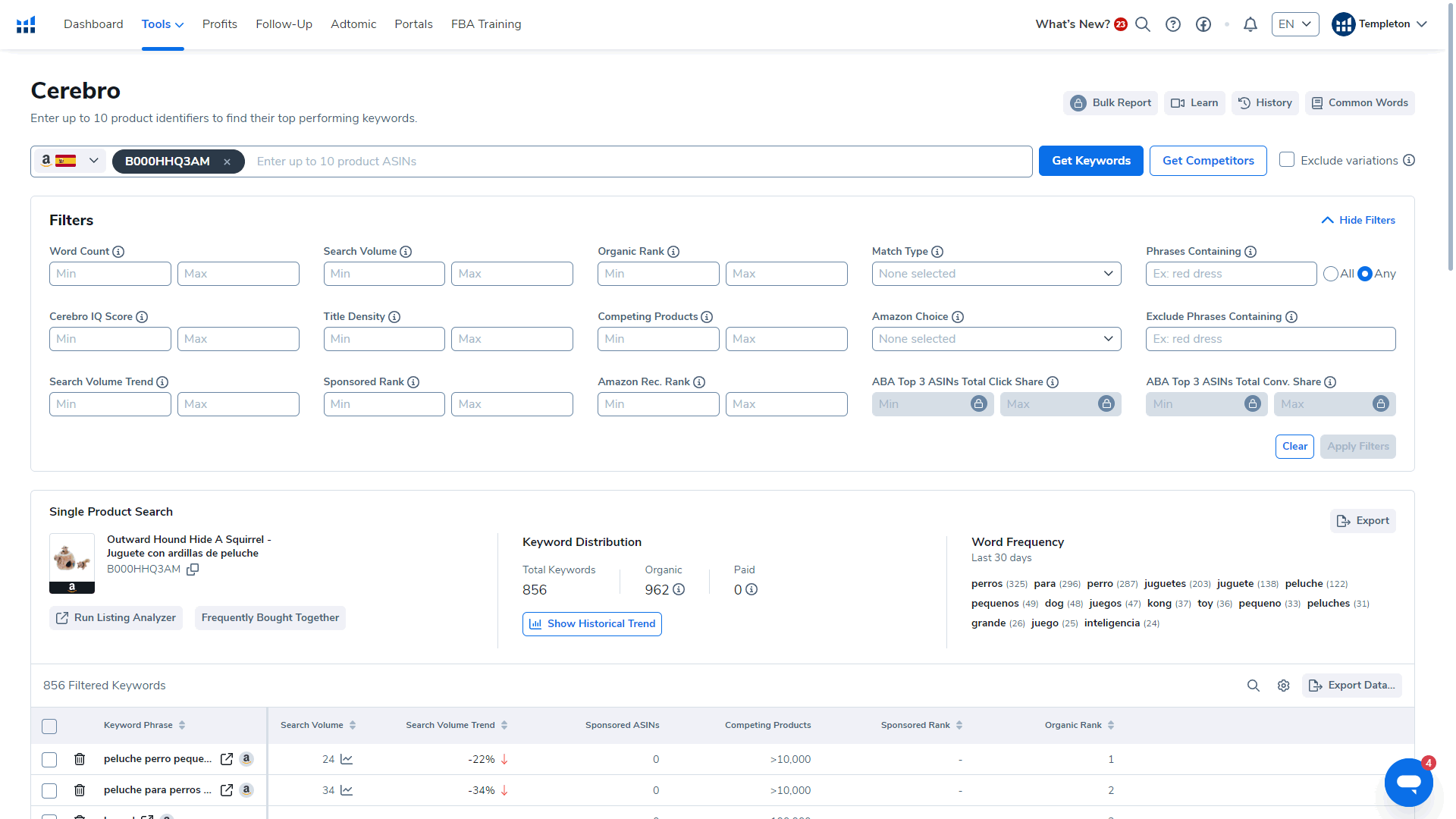 How to Use Helium 10 Cerebro
Select your Marketplace country
Input the ASIN of the product you wish to research
Click "Get Competitors" to generate a list of up to 10 competitor ASINs
Click "Get keywords" to produce a list of relevant keywords, along with search volume, estimated CPC (cost-per-click), and other useful metrics. Sellers can also evaluate the competition level for each keyword, helping them identify high-opportunity, low-competition keywords to focus on in their optimization efforts.
Helium 10 Cerebro's Data Filters
Available filters for searches include:
ABA (Amazon Brand Analytics) Top 3 ASINs Total Click Share
ABA Top 3 ASINs Total Conv. Share
Amazon Choice
Amazon Recommended Rank
CPR or Cerebro Product Rank
Competing Products
Exclude Phrases Containing
Keyword Sales
Match Type
Organic Rank
Phrases Containing
Search Volume
Search Volume Trend
Sponsored Rank
Suggested PPC Bid
Title Density
Word Count
Helium 10's Cerebro Data Results
For every ASIN and its child ASINs, you will receive:
ABA (Amazon Brand Analytics) Total Click Share
ABA Total Conv. Share
Amazon Recommended Rank
Cerebro IQ Score
Competing Products
CPR or Cerebro Product Rank: an approximate number of sales needed over eight days to rank on the first page of organic results for a keyword
Keyword Phrase
Keyword Sales
Match Type
Organic Rank
Search Volume
Search Volume Trend
Sponsored ASINs
Sponsored Rank
Suggested PPC Bid
Title Density