The Helium 10 API provides a powerful suite of features designed to help online retailers optimize their Amazon listings, conduct market research, and manage inventory that works in combination with the Amazon Seller API or Selling Partner API. So, Helium 10's data can explore your own Amazon Marketplace account data and combine it for your success.
How to access Helium 10 API
To access the Helium 10 API, follow these steps:
Register for a Helium 10 account at Helium10.com
Choose a subscription plan that fits your needs
Navigate to the API dashboard within your account
Generate an API key to authenticate your requests both on Seller API and the Amazon PPC API
With the API key in hand, you can now make API calls to retrieve valuable data for your Amazon Business.
Helium 10 API: key features
The Helium 10 API offers an array of powerful features that can help Amazon businesses excel in various aspects. Let's explore these features in detail.
Product Research
The Helium 10 API allows you to conduct in-depth product research to identify profitable opportunities. Using the Black Box endpoint, you can search for products based on criteria such as category, price range, and sales velocity. This helps you uncover hidden gems and niche markets that are ripe for expansion.
Using Amazon's + Helium 10 API you can extract metrics such as the Amazon Brand Analytics total click share and Amazon Brand Analytics total conversion share.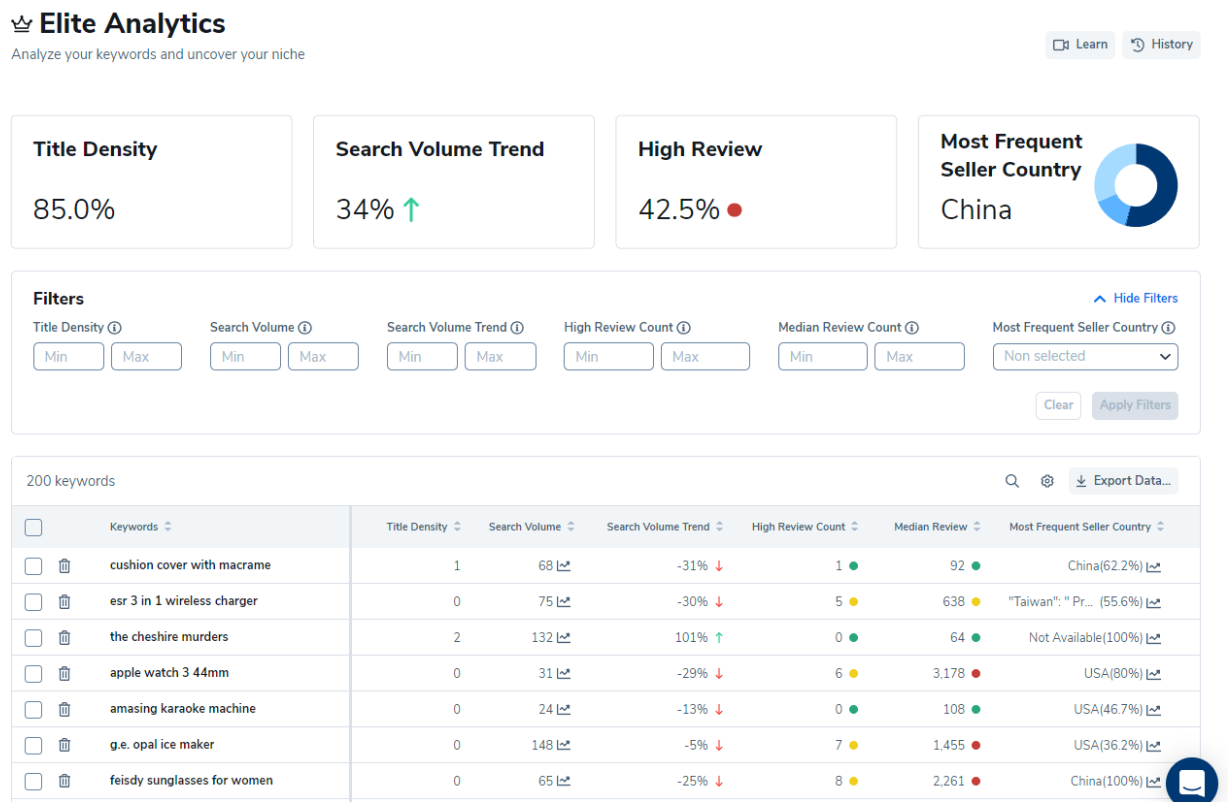 Keyword Research
Keyword research is crucial for understanding consumer behavior and optimizing your listings. The Helium 10 API offers two powerful tools for this purpose: Cerebro and Magnet. Cerebro allows you to analyze competitor listings, discover high-performing keywords, and identify keyword gaps to target. Magnet, on the other hand, helps you find the most relevant and high-converting keywords for your products based on user search queries.
Using the API you can combine the Amazon Brand Analytics data with Helium 10's API data.
Listing Optimization
Optimizing your listings is essential to rank higher on Amazon and drive more sales. The Helium 10 API's Frankenstein and Scribbles / Listing Builder tools can help you create compelling and keyword-rich listings.
How? By pulling data from Amazon Brand Analytics' reports and, as the API works both ways, sending your new listing data to Amazon Seller Central with just one click.
So, basically, we can create or optimize a listing directly from Helium 10's Listing Builder and send it to Seller Central, how cool is that?